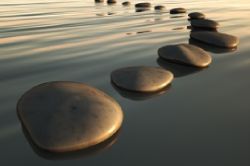 Step One - Organise your Finances
Step Two - Engage your Solicitors
Step Three - House Hunting
Step Four - Make an Offer
Step Five – Finalise your mortgage options
Step Six – Structural Survey
Step Seven – Exchange of Contracts
Step Eight – Closing Date

Step one - Organise your Finances

The starting position for anyone venturing on the journey of buying, selling or remortgaging is to ensure that they have enough money to complete the transaction and pay related costs and outlays, such as auctioneers' fees, legal fees and outlays. Therefore, if your property transaction requires a mortgage to complete, your starting point should be to go to your bank or financial advisor and get a pre-approval to establish how much a lender is prepared to offer you as a percentage of the transaction.
If selling a property, you should then arrange to put your property on the market so that you secure a buyer before entering into a contract to purchase yourself.
Please click here to get details of your conveyancing outlays.

Step Two - Engage your Solicitor

Choose the firm of solicitors you are going to use. If buying, you will need to give the estate agent the name and address of your solicitor so that he can provide the initial purchase details. This does not constitute a binding contract.
If selling, you will engage your solicitor in order to take up the title deeds to your property from your lender in order to draft contracts. Do this early on as taking up deeds from a bank or building society can take a few weeks.

Step Three - House Hunting

Once you know the amount you can afford to spend, you can really focus on finding the home that's best suited to you.
Remember to have regard to the quality of life you want in your new home and bear in mind nearness to schools, shops and public transport and these will influence the re-sale value of your new home. Indeed, the advice is summed up in the somewhat tired but always correct cliché, "location, location and location".

Step Four - Make an Offer

Buying a newly built home is pretty straightforward; you pay the booking deposit to the estate agent and give him/her details of the name and address of your solicitor.
Buying a second-hand home is often more complex as you may be competing with other prospective buyers. There are three vehicles for sale used:-
1. Sale by Private Treaty, which is a verbal offer, where the highest bid normally wins.

2. Auction. Here you should engage your solicitor to make an investigation of title and, indeed, you can engage your solicitor to do the bidding at the auction for you. It is very important to remember that if your bid is accepted, you are legally bound to proceed with the purchase and must on the day of the auction have a bank draft for the 10% deposit.
In the case of auctions you should have completed steps 5 and 6 before making a bid.
Agree your absolute upper limit and stick to it.

3. Sealed Bid. This is employed if there are a number of buyers competing for a sale by Private Treaty or some commercial premises. People are invited to submit their highest bid in sealed envelopes to the estate agent. The bids are opened at the same time and the highest bid at that time gets the property. Here it is a good idea to put in some odd cents as this could make the difference in whether the house is knocked down to you or not.

Step Five - Finalise your Mortgage Options

Get the deal and the package that suits you best. Make an appointment with your solicitor without delay. Inform the lender who your solicitor is as a copy of the loan approval will have to be sent to him/her. Your solicitor will advise you on the terms of your mortgage and assist in completing all necessary documentation.

Step Six - Structural Survey

On a second-hand property we would recommend that you engage an architect or civil engineer to do a structural survey. Remember you are buying the property as seen and no warranties will be given to you by the seller. We would also recommend a survey on new property, although you are in a far safer position due to guarantees normally provided by the builder. The legal maxim "caveat emptor" i.e. "buyers beware" applies in this transaction.
The survey carried out by the financial institution is for valuation purposes only.

Step Seven - Exchange of Contracts

By now you have spoken to your solicitor in relation to the financing of your conveyance. It is not advisable to sign any Private Treaty Contract until you have carefully considered and, where appropriate, completed the steps above. At this point you will, if buying, need to pay the contract deposit of 10% of the purchase price less any booking deposit you may have paid. The contract is not binding until signed by the vendor and returned to your solicitor. Click here to look at the glossary of terms.
Your solicitor will use this meeting to go through the contract with you in detail and answer any query you may have.
If you are successful at auction the contracts will be exchanged before you leave the auction rooms.

Step Eight - Closing Date

The closing date is normally 4 to 6 weeks from the signing of the contracts. It is the date arranged for the final legal transfer of the property where the remaining balance is paid to the seller, all legal documents are completed and the buyer gets the keys to the property.
Useful Information: