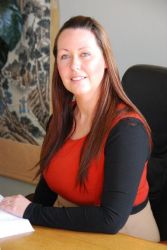 Emma Thunder has practised in the firm's busy Conveyancing and Probate Department since joining the firm in 2005. She is a valued member of staff and has worked closely alongside John Glynn and Oonagh Sheridan , who between them have over 80 years experience. She currently leads the Conveyancing department.
Emma obtained a primary degree in Business Management. Throughout her years studying she was awarded the prestigious Department of Management Award . She has also been honoured with an award from the Law Society for her examination performance.
Emma was admitted to the Law Society of Ireland in 2012.
Area of Specialty: Conveyanceing , Probate, Wills, Employment Law.